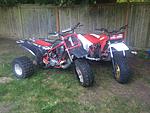 Did you put some new tread on your wheels? Finally complete that rebuild on that old, worn out engine? Did you pick up a low hours machine? How about tear through some trails or rip a sick wheelie? Tell us about it,
we'd love to hear it!
Oh, and don't forget to snap some pictures or video while you're at it!