Take a trip back to the past with our special feature for the month of November. If nostalgia is your thing, you won't want to skip over this one.
___________________________________
This 1986 Honda ATC 350X is owned by John MacDonald, owner of
MacWorth Ė Vintage ATV
ís in Maine. MacWorth specializes in collector quality vintage ATVís and makes no compromises regarding original OEM integrity. Their customers now range as far away as Dubai and the United Kingdom, with many machines also staying Stateside going to collectors all over the United States. Many of his machines are sold by word of mouth and never make it on the more popular online auctions or classifieds. Johnís passion for 3 wheelers started back in the early eighties as it did for many of us.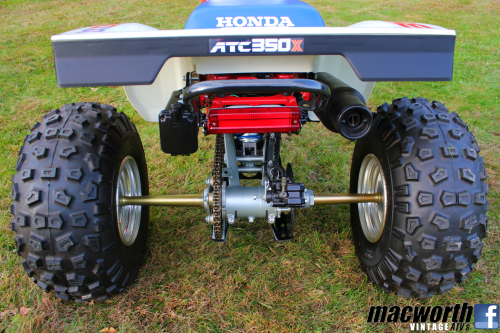 His first 3 wheeler was a blue 1984 Yamaha Tri-Moto 200L. He soon moved up to a 1986 350X which he ice raced for many winters back in Maine. Since then, 3 wheelers have held a special place in Johnís past and are among his fondest memories. All of us here on 3WW share that passion and we are grateful to be able to share this very unique collection with you all, starting with his í86 350X.
This ATC 350X was first owned by a collector named Bill Kowal (3WW member) from New York. It was then purchased by another collector from New York who brought it to Mike Palmgren at
Vintage Motorsports
(VMS) for a complete restoration several years ago. The owner needed everything to be perfect and Mike cut no corners. The 350Xís second owner/collector died tragically in a crash during the winter of 2013/2014. John purchased this 350X earlier this year.
This ATC is almost completely NOS to include a new crate engine, front forks, tires/wheels, seat, controls, front/rear fenders and tank shrouds. Everything else received complete reconditioning to include all OEM hardware, fresh zinc plating, and various powder coating where necessary; the tank on this 350X has yet to be filled with gas. We hope you enjoy the photos and be sure to tune in to 3WW for more from MacWorthís collection; weíre confident you wonít want to miss whatís ahead!
And as always, here's a few more interesting photos for your viewing pleasure. The thumbnails are clickable, if you wish to view it at full size.