1980 3Wheeling® Magazines
Do you remember these Magazines when they were sold at the News Stand? 3 Wheeling was the first magazine dedicated to mainly 3 wheelers. Here at 3WW we have been working to acquire one of every issue published. We have acquired one of the original Premier issues. Spring 1980 was the first issue published.

We have scanned the cover ( for starters ) of a bunch of the 3 wheeler magazines ( Dirt Wheels®, 3Wheeling®, and others ) we currently have. We will be adding more here on 3WW shortly. Look for more magazine updates ( articles and such ) in the future.
Thanks
Howdy



Click on the pictures for a bigger view.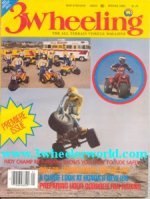 While we have a fairly large collection of old magazines dedicated to 3 wheelers we are always looking to complete it. The goal is to have one of every 1987 and older Dirt Wheels®, 3Wheeling®, and all other Old 3 wheeler magazines for use on 3 Wheeler World.
If you can help complete the collection PLEASE e-mail Howdy.

Links: Main Magazine Page

Here is the other 3Wheeling® Magazine Page Links:

1980 3Wheeling® 1981 3Wheeling® 1982 3Wheeling®

1983 3Wheeling® 1984 3Wheeling® 1985 3Wheeling®

1986 3Wheeling® 1987 3Wheeling®





Sections & Info


<!- Interactive link section ->

<!- End Donation section ->

Site search Web search

Help keep the Dunes open, Visit the ASA's website and support them.
Want to:
Advertise here, Sponser us ( very cheap ), Add a Link, Add pictures, Ect. ?
The contact information is above.

Do you like this site? Can you donate a little money to help pay for the web hosting cost? If you can donate please email Billy ( HondaATC ) or Howdy and they will give you the info on how to donate. Thanks!!

Thanks For visiting



Over


Page Visit's