'84 KXT250A1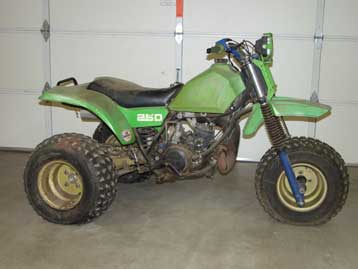 I bought it in 1990 and it sat in my sisters garage until December 2002. I started working on it in January 2003.

Here are some of the highlights.

Stripped and sandblasted the frame, swing arm and anything else that was previously painted black and painted it metallic silver.
Engine case covers and front forks were sand blasted and polished.
The fenders and tank were so oxidized by the sun, I had them painted.
Exhaust system from BILL'S PIPE (replaced fiberglass packing).
Polished aluminum rims from Douglas Wheels.
Custom upholstered seat cover.
The stock tires were still good, so I kept them.
New flywheel and stator from Ricky Stator.com
Installed Boyseen reeds.
K&N filter with precharger.
New rear shock from Works Performance will arrive on September 25, 2003.
New Fuel Petcock Valve.
Rebuilt top end (only installed new rings, Piston and cylinder was in great shape)
New aluminum grab bar from PRM-ATV.com
New LED rear tail light.




The Paint Job was done by my Father-in-law who is a Contract Painter. He often does work at Disneyland and California Adventure. This has given him some expertise in painting unusual surfaces like the fiberglass coated hand rails at Indiana Jones adventure ride to make them look like Bamboo. He also has painted Tomorrow Land, Space Mountain, Aladdin's Oasis and more.

With this plastic He washed the plastic with soap and water.
Lightly sanded with 400 grit sandpaper.
Applied "Plastic Prep" from DUPONT.
Then used Automotive Plastic Primer (Same that is used on Painted Car Bumpers)
Then Used Spray Can green paint from AutoZone (High Temp Exhaust paint/Color-Grabber Green)
Then used Emron Automotive Clear coat.


In all this restoration set me back about $1100.00. This bike runs great and sounds strong, I have only taken it out for a short ride down the street. The first Glamis trip will be October 11, 2003. Then I will really find out it my investment has paid off.

Great Web Site, Three Wheelers forever. Abolish the Consumer Product Safety Commission.

Terry Hammon
Bermuda Dunes, Ca.



Sections & Info


<!- Interactive link section ->

<!- End Donation section ->

Site search Web search

Help keep the Dunes open, Visit the ASA's website and support them.
Want to:
Advertise here, Sponser us ( very cheap ), Add a Link, Add pictures, Ect. ?
The contact information is above.

Do you like this site? Can you donate a little money to help pay for the web hosting cost? If you can donate please email Billy ( HondaATC ) or Howdy and they will give you the info on how to donate. Thanks!!

Thanks For visiting