Cagiva 200
Guys, I recently got an email from Andy Lillard, son of Jerry (Owner/Originator) of Tricky Dicks. This email was full of excellent information. Andy also attached 2 pictures of the Cagiva in action, and a front scan of a Brochure, along with a KX60 conversion which are shown below his email:

Greetings,

My name is Andy Lillard. My dad, Jerry Lillard, was the owner of Tricky Dick's. I can provide you with any information you need about Tricky Dick's and the Cagiva 200. I had been racing a Honda CR80 that we had converted into a three wheeler that just tore apart the 110 class. When I had outgrown the bike we were looking to move into the 200 class. We were looking at sleeving a 250 when we came across the Cagiva. The 1984 Cagiva WMX250 motocross bike was actually a 190cc from the factory. It was just perfect. It was a huge hit because you could race the 200 and 250 classes and win them both. There wasn't a 250 that I ever saw that could keep up with it. It really peaked when Rodney Gentry placed 4th in the Nationals in '85. The president of Cagiva actually flew from Italy to California to meet my dad and check out the three wheeler. They were excited and wanted us to manufacture Cagiva three wheelers. However, a couple of months later they backed out when the talk of banning three wheeler manufacturing started.

To answer some of your questions from the website….the rear fenders were the low profile fenders for a Tecate 250. Front fender is off the '85 Honda 250R. The fenders were specially made to match the factory plastic color. The front hub, front axle, triple clamps, swingarm, and tailsection were made by Tricky Dick's.

The Kawasaki is a KX 60 conversion that was raced in the 70 class.

The Husqvarna was built and shipped to Husqvarna headquarters in Sweden. They loved it and were looking for Tricky Dick's to manufacture three wheelers for them. Again this was just before the ban. As far as looks, I always thought the Husky was the best one we had done.

I will get the back side of the Cagiva 200 brochure scanned for you. It has all the specs on it.

I've got some other pictures to scan like the Honda CR 125 conversion that was built for Jackie Meadows who won the under 14 National Chapionship. The first Cagiva 200 we built that I raced. And whatever else I can find.

My dad loves to talk about the good ole' days. He's got some hilarious stories of running around the country promoting the Cagiva. We had a blast back then.

I hope you find this information useful.


Thanks,

Andy Lillard

Heres those pictures Andy was talking about:

(Husquavarna picture posted on the Husky Page)


Cagiva 200 Pictures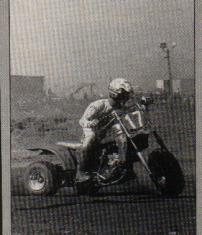 Another picture out of a magazine, looks quite a bit like a Tiger


Heres Tricky Dick's ad for the Cagiva in 3Wheeling


This is that Magazine Article Thats typed out Above


Here's a side view of the Cagiva. Look at that huge rear shock!


Here's the Cagiva Racing


Ouch, looks like somone went a little to high


Motor of the Cagiva
I got an interesting email recently from Mike about some Cagiva's. Heres what Mike had to say:

Back in the early 90's myself and two other friends were flat track racing 200x and 250r Honda trikes all over Missouri and we heard about this thing called a Cagiva. We didn't know what it was until we saw one. After that we were all in love. I grew up on a farm near a little town in Missouri and little did we know that these things were being manufactured a little over 70 miles south of us. A man named Jerry Lillard ran a place called "Tricky Dicks" in Shelbina Mo. We got to know Jerry and found out the whole story on him and these MEAN MACHINES. Jerry was the one with the idea for the coversion kit to change these things from a dirtbike to a three wheeler. He also had a race team(who kicked our butts.) Any how, My two friends ended up buying three of these things all together and I sit in amazement. Two of them were together and the other was nothing more than parts in a pile. The LAST three Cagiva three wheelers EVER BUILT!!! Pretty cool hu? Well I have to say that I have never been on anything that mean in my life! Not a 250r. Not a Banshee. Not ANYTHING! You can go all the way through the 5 gears and never move. Hard trike to get hooked up but what a blast! They are a 250cc sleeved down to a 200cc. 38 hp and lots of guts!! Well my son has been wanting a machine to ride so I thought I would try to find my old trikes that I used to race. They have all been destroyed but I called my old racing buddies to see what they had and what do you know???? 200 Cagiva came up in the conversation. Needles to say my mouth insantly started watering. I went down and looked it over this past Saturday and bought it. It's in great shape but It needs some TLC. I think I can do that! Please let me know if you have ANY info on these thing at all. Thanks Mike Browning.

Mike Also sent me these 2 pictures (Show below)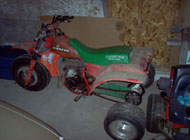 Thats all there is folks, but if you have any info please email us. Any information would be excellent.



Sections & Info


<!- Interactive link section ->