FatCat

Above is a picture of a 1987 Honda TR200 aka the Honda Fatcat

">
">

A reader of the site, Tom, recently picked up this immaculant Fat Cat. It is without a doubt one of the cleanest ones I've ever seen.

The Honda FatCat had an engine close to the 1986 TRX200SX
and the 1987 TRX200SX


Above is a picture of a 1985 Honda ATC250R made made into a FatCat with the Missle Engineering "Missle kit". Unfourtanetly Missle Engineering has been out of business for several years and the original kits from the 80's are very hard to locate.
"Scatter" sent me this very cool picture of a Honda FatCat line up on the beach in the Baja peninsula. Theres 17 of them in the picture. At first I figured it was club of some type but Scatter says they are just a group of friends who have found the FatCat to be the best thing for tooling around on the beach. Check it out.





Heres some more cool FatCat picture sent in by Goochman of his Fat Cat. They use it to retreive model rockets and for hunting out in the Nevada desert.


Wade`s Sand Bike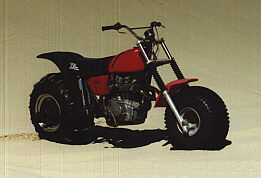 "This bike originally started life as a CB450 that Wade pulled out of the weeds behind his dads shop. Wade grafted on an ATC front end with custom triple clamps. There is a ton of innovation and fabrication here. He made the rear yoke and mated it to an old Volkswagon hub. The VW hub carries a 15" rear wheel and paddle tire. Two chains and 3 small sprockets transmit power."

If you have any honda fatcat picture, PLEASE send them to us and we will put them on this page.



Sections & Info


<!- Interactive link section ->

<!- End Donation section ->

Site search Web search

Help keep the Dunes open, Visit the ASA's website and support them.
Want to:
Advertise here, Sponser us ( very cheap ), Add a Link, Add pictures, Ect. ?
The contact information is above.

Do you like this site? Can you donate a little money to help pay for the web hosting cost? If you can donate please email Billy ( HondaATC ) or Howdy and they will give you the info on how to donate. Thanks!!

Thanks For visiting



Over


Page Visit's