eXtReMeLy MoDiFiEd AtVs
These are some ATVs that I saw at a local ATV pulling competition. I liked them so much I had to take some pictures of them.

This was a modified honda ATC, I cant remember the size of the engine, but it was a honda streetbike motor.
This picture didnt work for some reason, but this was a lawn tractor with a 1100CC 4 cylinder kawasaki streetbike engine in it.

This picture is a Yamaha VMAX Snowmobile turned into an ATV. I sent this picture to DirtWheels magazine and they put it in there 1999 December issue on page 10.
This was sent to me by e-mail. It is a custom frame, with a Yamaha RD350 twin 2-stroke engine in it. That is basicly the same engine that us used in the Yamaha Banshee. This trike also has ATC90 fenders. I was told that this 3-wheeler was put together when the biggest 3-wheeler you could buy was a honda ATC110!!

This Tri-Z was also sent to me by e-mail. It uses a kawasaki 1100cc streetbike engine.
Above has got to be one of the coolest 3wheelers I have ever seen. It is a 1995 Honda CBR600 modified into a Sand Dragger.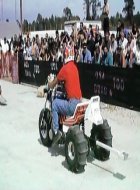 Here are some pics that I found at USADRAG.com, to go to the site where I found the pics, click here: MEN OF 3 WHEELS


These 2 pics above came from THiS SiTE






Sections & Info


<!- Interactive link section ->

<!- End Donation section ->

Site search Web search

Help keep the Dunes open, Visit the ASA's website and support them.
Want to:
Advertise here, Sponser us ( very cheap ), Add a Link, Add pictures, Ect. ?
The contact information is above.

Do you like this site? Can you donate a little money to help pay for the web hosting cost? If you can donate please email Billy ( HondaATC ) or Howdy and they will give you the info on how to donate. Thanks!!

Thanks For visiting



Over


Page Visit's