Nick Nicholson framed ATC110, Full suspension included.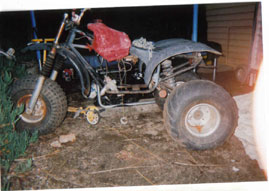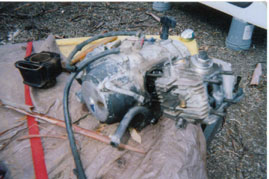 Here's the scoop. I found a full suspension trike with a 90 stroker motor in it. Some of the goodies on it was full flow oil system , cam, 26 keihin carb, manual clutch. It had been sitting outside here in so cal so it was pelted by rain but never freezing temps. The piston was rusted solid in the barrel and it sat for a long time in my back yard, until one day.... I realized I had a roller frame and that I had a stock 110 with a cracked stock frame. So I thought strip the stock one, Slam everything on the suspended frame, then fix the stock frame and keep it so i could (if i want ) slam it back.

So for everyone here...this is my project




Here the frame is stripped




Heres a pic of the swing arm set up, Check out the old schooling chrome drum with holes drilled. I ended up having to buy a different shock for it...picked up a 200x shock @ Veys for 40 bucks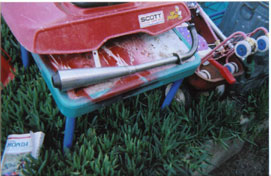 Heres the pipe that came off the stroker motor..thinking of selling it because I ended up using a supertrap.




I decided to go with the 86/87 200x color scheme. I picked up some krylon and started turning wrenches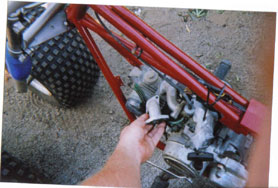 What a difference between the stock and Powroll intakes.




I had a chrome cover for the pull starter so I decided to slam it on too.




Hows the KC cover look on that headlight?




Coming together and looking good, chrome pull starter cover also installed.




I put the axle extension I got with the MTC frame on the stock frame...I haven't yet decided if im going to switch them back...I want to wait and see how she handles.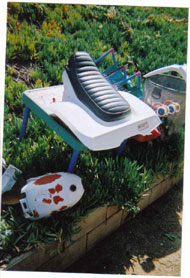 Time for paint.... I bought a 84' 200x fender from Veys ($10.00) and painted it but I dont like the looks of it on the project. So I'll leave it off for now I brought the frame down to Veys and tried holding up several fenders ... I tried: 350x 85', 250r 85', tri z 85', 200x 84'. Ended up chosing the 200x but when I attached it and stood back to take a look....Its just not quite doing it for me.




I dragged against my eleven year old on a trx90 ..shes about 100lbs I weight about 200....I blew the plastics right off her lil butt.....hehe



Sections & Info


<!- Interactive link section ->

<!- End Donation section ->

Site search Web search

Help keep the Dunes open, Visit the ASA's website and support them.
Want to:
Advertise here, Sponser us ( very cheap ), Add a Link, Add pictures, Ect. ?
The contact information is above.

Do you like this site? Can you donate a little money to help pay for the web hosting cost? If you can donate please email Billy ( HondaATC ) or Howdy and they will give you the info on how to donate. Thanks!!

Thanks For visiting



Over


Page Visit's