The Taurus


Make sure you checkout www.Taurus650.com for original OEM parts for these rare machines!
Heres a ThreeWheeler that was way ahead of it`s time. The Taurus featured a key ignition, early model yamaha Timberwolf style rear rack, Polaris style continuously variable tranny, twist throttle, and puncture-resistant Carlisle TurfBuster tires. Ironically though, the 650cc 4-stroke motor only produced 8hp.
2/01/04 UPDATE
We now have more information on this Beast of a Machine.

Specifications:
POWER PLANT: Sealed torque Converter with twin cylinder 656cc Briggs & Stratton; fan cooled electric start.

TRANSMISSION: Automatic with Hi/Lo and Reverse gears ranges; progressive gear, final drive system with continual lubricating oil immersion.

BRAKES: Rear 23cm. ( 9" ) diameter hydraulic disc brakes
Front 15cm. ( 6" ) diameter high efficiency drum brake

SUSPENSION: Extra long travel suspension with Marzocchi components;
Front 19cm. ( 7.5" )
Rear 13cm. ( 5" ).

BODY: Constructed of durable high-density polyethylene.

GROUND CLEARANCE: 12" / 30.5 cm. under engine.

TIRES: Carlisle, 3 ply belted, 2.5 psi, 25x12.00-9in tires.

GAS TANK: 27 liter ( 6 imperial / 7 American gallons ) capacity polyethylene gas tank.

FRAME: A computer designed low vibration steel frame providing a 147cm ( 58" ) wheel base.

BATTERY: Maintenance free, sealed heavy duty battery.

Cargo: It can carry 45Kg / 100lbs on the front carrying rack and 133Kg / 250lbs on the rear cargo area. WOW! That is a lot of Cargo!!!!

Here is a complete Brochure: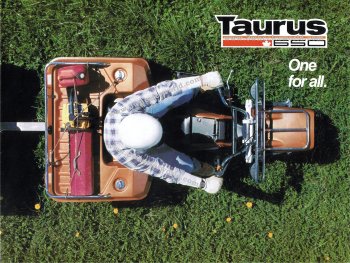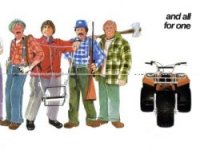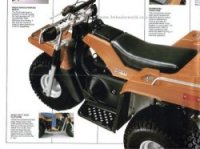 I also recently got an email from Eric Russel from www.allterraincycles.ca That he's been in contact with the guy that actually designed the Taurus trike. Really cool stuff, Heres his email:

I called the company (ODG) that built the Taurus and they gave me the number for the guy that designed and built most of the thing. His name is Tom something. I can't get a answer at his house yet to ask him a few questions, just a machine. I just got his number yesterday, so I'll politely keep trying. I want to find out how many were built, years made, was it successful?, and a few other things about the design of it. I got to talk to the guy today, and he has a cottage right near my house and he know exactly where I live. (kinda cool!) He is going to do some more research for me because he has forgotten a lot over the last 20 years. I think we all have his problem! He remembers that there was about 1000 of the Taurus's built, but can't remember the years. A dealer near Kingston, Ontario bought all the left over parts, plans, and trikes for real cheap after the consent decree crap. I faxed a page of questions and many thanks for his effort to help us "3-wheeler guys" out.

Eric is going to email me when he finds out more information, I'll be sure to relay to everyone what he finds. If you have anymore info on this machine please email us.
It will be added to this page quickly.






Sections & Info


<!- Interactive link section ->