After a long awaited arrival, the worlds most NOS first generation 250R we've ever seen is here and it's absolutely mind blowing.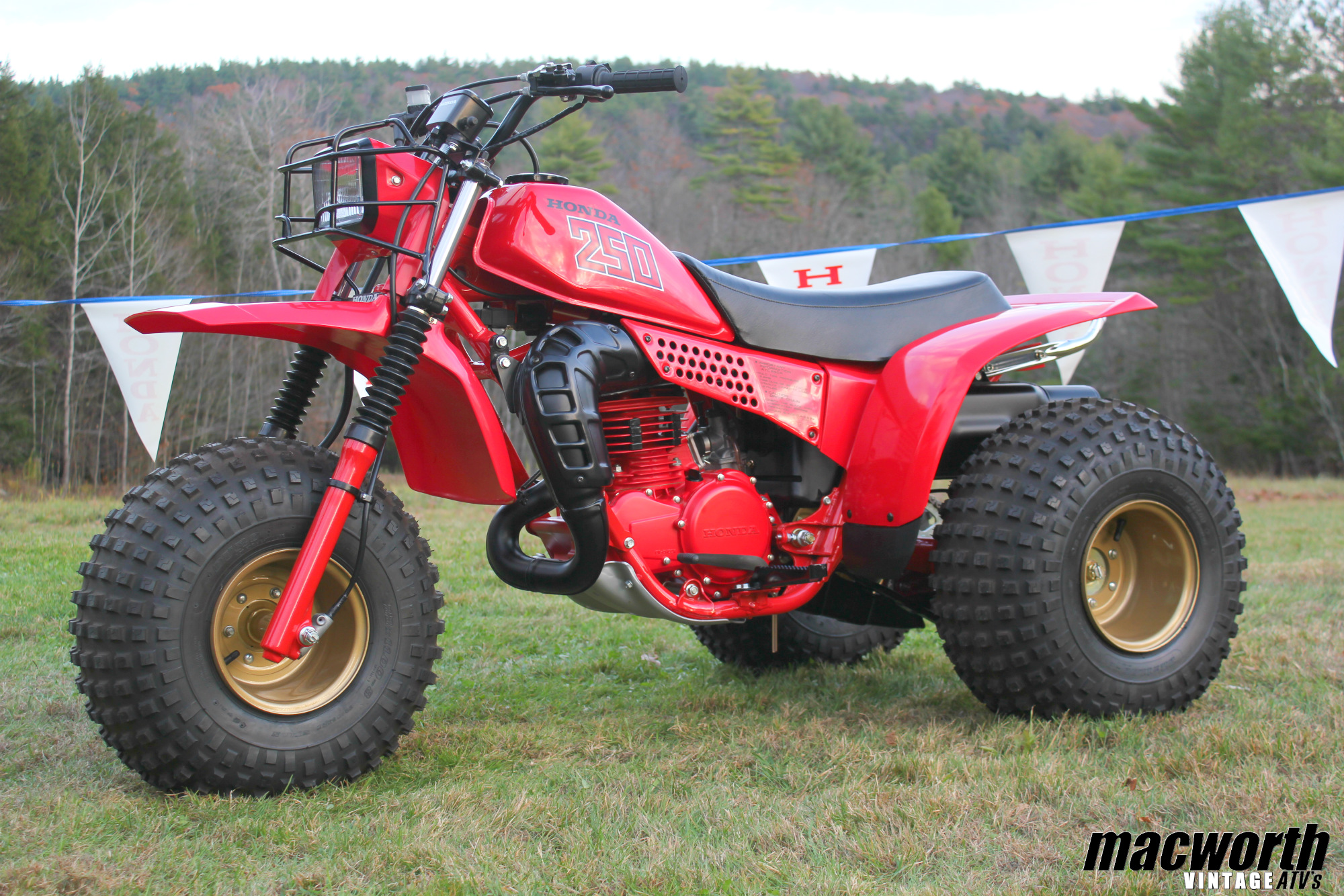 Well here it is everyone, arguably one of the worldís finest 1981 ATC250Rís. This machineis owned by John MacDonald, owner of MacWorth-Vintage ATVís (link) in Maine. Johnís passion for 3 wheelers all began as a young boy when he rode his first 3 wheeler at age 11, his friends 1984 ATC110. Since then, his passion for 3 wheelers has evolved into a business devoted to OEM original ATVís that that include some of the finest original ATVís of the 1980ís. John has earned a reputation of collecting and selling some of the finest original vintage ATVís in the world. His customers now range all over the USA, Canada, and overseas.


Occasionally, and only at the hands of Vintage Motorsports, John will purchase a restored machine. In Johnís opinion, nothing beats original. However, the meticulous detail and passion for which Mike Palmgren crafts his restoration work is without equal. This particular Ď81 250R included a very extensive NOS & OEM parts list. Parts were collected over the course of several years by the projects originator and 3WW member, Bill Kowal. It was then meticulously prepared and assembled at Vintage Motorsports in Massachusetts for itís second owner who died tragically in a snowmobile crash last winter.

It is now a complete machine and one that commands attention. The history and lineage of Hondaís ATC250R line is unrivaled and this example stands alone. We hope you enjoy the story and photos of this beautiful 250R and encourage you to LIKE MacWorth on Facebook. Here you will see Johnís beautiful inventory and private collection of OEM original ATVís, literature, and accessories. We just might see a few of Johnís OEM original machines here on 3WW later this yearÖstay tuned and enjoy!



nventory:
All of the following are new factory parts:
1. Factory rear fender (found on a dealer shelf in the Honda wrapper and in the box)
2. Factory front fender
3. Factory Headlight shell
4. Front hub
5. headlight mounting bracket
6. tail light assembly.
7. Chain Guide
8. Gas cap
9. Factory fuel tank labels...not repros
10. Factory Rear fender decals...not repros

11. Shifter and rubber
12. Tool box
13. Tool kit
14. Mudflaps
15. Mudflap mounts
16. Factory front sprocket
17. Rear hubs..pair
18. Factory rear sprocket
19. Wire harness
20. Rear skid plate
21. Front caliper
22. Honda brake pads front and rear
23. 961 Honda factory grips
24. New factory switches...both of them
25. Front axle
26. Passion red rear drum assembly
27. Rear brake pedal
28. All exhaust mounts
29. Hondaline headlight guard
30. All front brake hose guides
31. Fork boots
32. New carb intake

33. Rear drum cable lever
34. Clutch perch
35. Clutch and brake levers
36. Sprocket cover
37. Factory red stator cover
38. Factory red clutch cover
39. Factory red left engine case
40. Factory red right engine case
41. Several new gold rim wheel halves
42. Cylinder exhaust stay
43. NOS black engine gaskets...new are green
44. Master cylinder parts
45. New factory red case saver
46. Tons of new Rubbers
47. All new cables
48. Tons of new factory bolts
49. Rear grab bar
50. Engine skid plate


The refinished parts to NOS quality include,

Handle bars, building and refinishing parts on the NOS engine, factory exhaust, building/refinishing the wheels, fuel tank, frame, heat shield, swingarm, Front forks, rear shock, axle, foot pegs and many more smaller brackets, mount, bolts.....to much to list.....powder, painting, polishing, and plating.


As promised, here are all the respective photos of the completed machine! This machine was previewed here on 3WW many years ago, and has only surfaced now.