Triken Across America
While we have smaller get together's ( 2 - 10 people ) between some of the riders here on 3WW, we still feel the need to have bigger Public get together's to bring all 3 Wheeler riders together from all over. On September 20th through the 22nd, 2002 we held the 2nd get together at Haspin Acres in Laurel Indiana. The date and place was set back in July, even after Howdy had just about totally giving up after the first get together. This get together was meant to be. The first get together was good, but Sept 20-22nd 2002, was 3 or 4 times better and will be remembered forever. More people showed up than expected, and everyone left with smiles.

I will start out about our Camp:
Thursday September 19th turned out to be a wet day. After Months of no rain in Laurel, Indiana it started raining. How ever the people kept comming. Trike ( Nate Frey ) was first to arrive with Trikeaholic, MrATC and MIK6 arriving a few hours later ( around 2AM ). They waited until morning to find us the best place possible to camp. They happened to get the 1st pavilion down beside the main pond.

Friday 9/20/02 the weather was no different. It rained, rained, and rained some more. On Friday Howdy, John & Liway Swineheart arrived in the afternoon. Tim Sr & Tim Jr, OldSchooling, Kimmer250r, YTZ250n, and other just kept coming all through Friday Evening and night.

By Saturday morning our camp had really grown. Saturday morning started out muddy. But the rain had stopped and the sky was clearing. Once again the people kept comming. Gene from chat showed up unannounced as well as others. Howdy's wife, sister and 3 kids showed up later in the day just to say Hi. By that point our camp had grown to about 30-35 people. I just wished I could remember everyone's name. It was awesome!!! Saturday afternoon we took the Group picture. I can not find the words to express the site of at least 13 3 wheelers from all over the USA lined up side by side. Everyone got along like they were close friends for years. It was a sight that will never be forgotten.

Then Sunday came, and some people had to leave early. How ever more people kept comming also. I am willing to bet there was 10-15 or more people Sunday alone that stopped by. I wished we would have been able to get a Group picture with everyone that stopped by in it. There would have been around 10 more 3 wheelers But the group pictures was taken Saturday evening do to some leaving Sunday morning. I personally stopped by the Main Haspin office and thanked them for allowing us to get together there. They were so impressed with us they invited Our group back any time we want. We showed them that we are a class act.

My wish is for the next get together to include more people / riders from other web sites, and places. With this get together we showed Haspin that 3 Wheelers are alive and still thriving.

I have a lot of pictures from Haspin, but there was more taken also that I haven't received yet. I would like to get just wished we had all the pictures. Here are the pictures we have. I hope you enjoy them. I hope everyone will come to the next ride or get together. It's a great way to meet other riders from all over. This allows us to put a face with names from 3WW or any other web site, place for that matter.

We even had a guy his wife and kid stop by that had never heard of 3 Wheeler World and he was having problems with his machines. John, Mr ATC, Howdy, and other was right there to lend a helping hand and got him running better. Those were some of the special moments that will never be forgotten. Thanks goes to everyone that came and made "Triken Across America" so great!

Thanks
Howdy


Here are some group Pictures. More TF02 picture page links below.
Click on the pictures to see them bigger.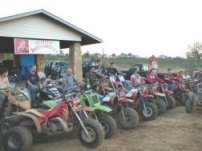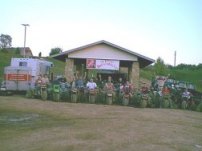 Here is a Picture of Tim Sr and MrATC debating 2 stroke oil:

Here is a Picture of Tim Sr and MrATC shaking Hands:




Here are some more TAA 02 Picture Links:
Main Page
Our Camp Pictures.
Our Action Pictures.

If you want your 3 Wheeler pictures posted on 3 Wheeler World please e-mail them to HondaATC or Howdy.
The contact info is on the right.





Sections & Info


<!- Interactive link section ->