Tiger 80

Wow, now heres the LAST thing I was expecting to be adding to the Tiger line up, an 80! But Whats so amazing about it? It has larger in diameter forks then a 250R, has more suspension travel then a 350X, and the engine Produces TWENTY THREE horse power. No, thats not a typo, read it again. TWENTY THREE horse from the engine straight out of the Tiger factory.





Still speechless? You oughta be, because we sure are. Imagine meeting this monster on the trails today, Cruising around on your 200X, or 350X, and having an 80cc 10K+ RPM high revving monster come flying around you, while you eat dust and dirt from an it. Now, imagine this same machine in peewee races today? Hey speed demon fathers, I think you just found the perfect bike for your son...or maybe not.


Heres some new pictures of the Tiger 80, for more infomation visit this thread on the forum.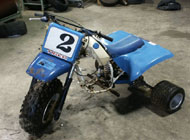 Sections & Info


<!- Interactive link section ->