This upcoming March will be quite a month. With both the Imperial Invasion and a full week long tribute to trikes taking place, you won't want to miss out on these events. Click "
read more
" for the full article.
---
For the last several years, the
Imperial Invasion
has been a long standing tradition among many trike enthusiasts. For those who don't know, it's a large meeting of trike guys in the southern portion of the Imperial Sand Dunes (typically at or near the Gordons Well area), that is about a week of fun with camping and sand dune riding with most people coming from out of the area since many of the riders come from up north, as far away as Canada in some circumstances.




At the dunes in 2011. Video credit to Doug Notter.
The Invasion is set to take place on March 2nd and finish up on the 8th.
Each year the event turns out a good amount of riders, but as always we look to improve that count. The moniker comes from the large amount of East Coast and Northern riders that descend on the ISDRA and invade for a week of shredding. This is an informal event with no organized competition beyond trying to see how much gas can be burnt through your bikes while you're there!
For more information about the Imperial Invasion - see these two major resources:
3WW Official Thread
Official Facebook Page
---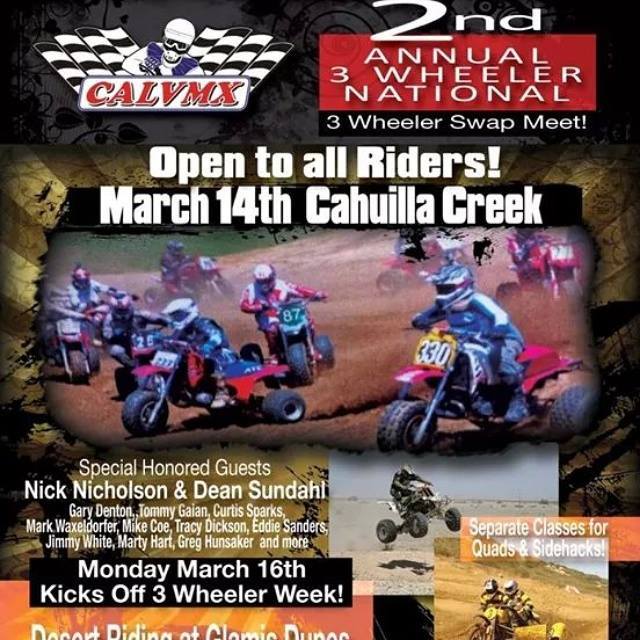 Following the Invasion, another weeklong event dedicated to three wheelers of all kinds is also taking place. Several three wheeler National races hosted by CALVMX are also in place.
3 Wheeler Week
will feature appearances by many old school racers, performance tuners, builders and people who had direct involvement in the scene back in the 1980's as well as recognizing them for their contributions. We would also like to mention that there is also something very special in the works for those who participate in the race, as well as other freebies and giveaway's, so stay tuned!
Photo's from last year's National.
Starting on March 14th, the week begins.
The schedule is as follows:
Saturday, March 14th
: Race at Cahuilla Creek MX, located in Anza, California. This is CALVMX's 2nd annual three wheeler Nationals. This year we will be honoring Nick Nicholson and Dean Sundahl.
Camping at the race track is allowed
.
Sunday, March 15:
Race at Cahuilla Creek MX. CALVMX will be holding a regularly scheduled Vintage motorcycle race with three wheeler classes. It is open to all three wheelers, sidehacks and
all
skill levels.
Monday, March 16:
We will be relocating to Glamis, for several days of relaxing Dune riding with fellow trikers.
Experienced local dune riders will be there to help insure a safe and exciting action packed time. Local expert riders will be happy to assist any level of skilled rider to improve your ability or, if wanted, to push it to the limits.
More news will be coming as the list of legends who will be present is growing fast.
All questions about available accomodations, permits and anything else can be answered
here
on their Facebook page. If you do not have a Facebook account, you can also drop a post in our forums at the
official thread
.
These legends and icons in three wheeler racing and innovation will be in attendance for the CALVMX three wheel national. The list may continue to grow, and some might just hit the track with you. If this meet and greet isn't enough to make you go, what is? Be there!!!
Nick Nicolson
Gary Denton
Dean Sundahl
Curtis Sparks
Mark Waxeldorfer
Mike Coe
Sam Coe
Tracy Dickson
Eddie Sanders
Steve Wright
Marty Hart
Jimmy White
Darrell Bassani
Big Al Gearhardt
Lance Scoonmaker
Chuck Connley
Mike Davis
Bruce Baker
Ricky Martin
Dean Kristinsen
Rodney Sheldenhelm
Eddie Frisk
Mike Davis
Wes McCoy
Fred Wing
Donovan
Randy Engen
Rodney Engen
Steve Fenton
Mike Hallett
Bro Hallett
Craig Corda
Jim Babbit
Mike Savoy
Jimmy Martin
Mike Hotchkiss
Gary Jensen
Greg Hunsaker
Dusty Burwell
Steve Johnson
Fudge
Robin Davis
Lisa Lipopencott
Big Al Race team
Truck Truck guys
And last but not least, the infamous Larry Proctor.
As the event draws closer, we will update you with everything you need to know. The people who put these events together work hard to make it happen, so the least you can do is show up. We expect you guys to be there, taking videos, taking pictures, making friends, and most of all, having fun. That's what three wheelin' is all about.