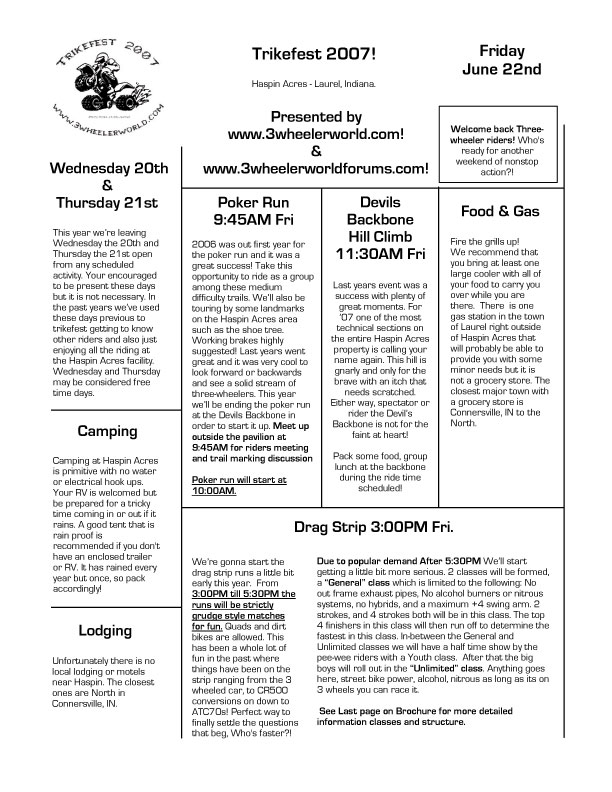 What a question! Trikefest is the annual gathering of three-wheeled ATV Enthusiasts that reaches across the entire GLOBE and brings us together at
Haspin Acres riding park in Laurel, Indiana.
It is held every year, the weekend after Fathers day.
Its been going on since 2001, when the event was originally organized and setup. It started with a meager dozen or so riders and has grown into what today is consistently a turn-out of around 300+ people.
If you love three-wheelers, if you love talking to and hanging out with other trike owners, you'll love Trikefest! In addition there is also exhibition events for Motocross, Drag racing, and hill climbing. We follow up with an awards ceremony that gives the winners of the events a Trophy or other memento to remember it by. We've also been known to throw out some awards for non competition type things such as Most Memorable Event, Furthest distance traveled, Best sportsmanship, and a host of others. You'll also have the chance to pick up some cool schwag such as Trikefest T-shirt's, Hats, and stickers. We've also got a give-a-way table where you'll have a chance to get some FREEBIES! Sound cool?
Checkout some picture threads of the past Trikefests that members and attendees have contributed to:
Trikefest 2007
Trikefest 2008
Trikefest 2009
Trikefest 2010
Trikefest 2011
Trikefest 2012
Trikefest 2013
A correspondent for ATVriders.com visited the event in 2010 and
they posted this article on their website
which is a great read and if you haven't been before will definitely get you amped up!
In 2012, and also 2013, a sports editor for a News Paper in the nearby town of Connorsville wrote an article about us too!
2012 News Examiner Article
2013 News Examiner Article
You might also find the following list of previous years recaps and brochures interesting, as well!
---
Things you should know:
The terrain at Haspin Acres can be quite treacherous. The park is composed mostly of technical woods riding with a lot of rocky and off camber hill climbs. It does also feature 2 motocross tracks, and one drag strip. Be warned though, that these are usually only groomed in the day of the events so they are likely to be a little bit rutted out and rough compared to actual event day conditions.
Although the event days are only Friday, and Saturday (Sunday is a pack out and travel home day), Historically people have been showing up an entire week in advance and if you come Tuesday or Wednesday you definitely will not be alone!
BE PREPARED FOR RAIN! The odds are greatly in the favor or at least a good shower and we have had a few years where it was pretty much torrential down pour. Because of the clay based soil at Haspin Acres, it is very slippery and sticky when its wet. Bring several changes of clothes (per day), a set of rubber boots, and some mud tires for your trike just in case! If your tow vehicle is not 4x4, I highly recommend staying up in the top main parking lot and not going down into the camp ground area. If you do take a right down into the camp area, try and find yourself a piece of higher ground to setup camp.
We share the Haspin Acres park with other patrons. They will include quad riders, dirt bikers, and Jeep/Trail buggy/Rock crawler rigs. Alcohol consumption is permitted at Haspin as long as there is no drunk or belligerent behavior. And although many parents bring their children (and return with them, year after year), some have expressed displeasure with the situation of alcohol consumption. It is a personal judgment call, much like riding a three-wheeler that you will have to make. Haspin security is on site and although it is rarely a problem they have been used in the past. Please be courteous and thoughtful, we're all there to have a good time but don't become a burden to nearby campers.
With all that being said, You will have a great time. You'll meet tons of great new people, come home with a 100 new stories, and have the memories to last a life time.
If you have any other questions about Trikefest, you should feel free to post them up in our Rides, Races, Events forum